Multiverse Media Group: Offering the Kind of Photography Studio Rental Jacksonville Florida has Been Waiting For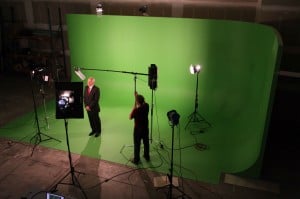 With some 2,000 square-feet of sprawling studio room and such equipment as green screen syc-walls, lights, stands and grips, teleprompters, cameras and much more, Multiverse Media Group serves Jacksonville's photographers, videographers and the area's burgeoning independent film community with quality at affordable prices.
As a leading production company in Jacksonville and the kind of photography studio rental Jacksonville Florida has been waiting for, MVMG goes far beyond typical production studio rental offerings. As a professional requiring such services, there are potentially any number of reasons why you might be reading this post; however, going with the assumption that you possess at least a minimal interest in studio photography, there's no doubt the thought of a true "professional shoot" piques your interest.
Why Rent a Professional Photography Studio?
If you've ever considered looking into a full-blown studio session but resisted, whether it was from a fear of failure stemming from expectation and self-inflicted pressure or the disappointment that came from attending a workshop that didn't quite "work," you can't imagine the potential you're missing.
The main advantage of shooting in a studio, such as ours at Multiverse Media Group — the kind of photography studio rental Jacksonville Florida embraced immediately — is the obvious ability to control and shape the quality of light: Shooting beneath studio lighting has a way of making practically any camera render incredibly sharp, detailed images. And while this kind of quality and control normally comes at a steep price, that's not the case at Multiverse. Our photography studio rentals represent incredible value for one of the best photography investments you can make.
Here are some of the things that should be considered when choosing a photography studio to rent…and what makes Multiverse the photography studio rental Jacksonville Florida which incorporates these elements:
Rates
These can vary greatly from studio to studio, but with Multiverse you can rest assured knowing you're getting high quality at a great price.
Size
While studios boast a range of sizes, as a rule bigger spaces are better because they offer a greater selection of creative options. Multiverse's studio is some 2,000 square-feet and is available with a myriad of amenities including the aforementioned cameras, Teleprompters, stands and grips, etc.
Hidden Charges
We don't play this game at Multiverse. Some studios take the use of consumables, like backdrop paper and parking, and make them into unseen fees that can make a big difference with regard to total rental cost.
Overtime
Most studios charge a premium for going over your "allotted" time in the studio, so it's important to be aware of this before booking. We are upfront with regard to all our costs at Multiverse.
Equipment Hire
While most studios include equipment hire within the bottom line rate, some have a tendency to apply additional charges, so it's vital to double check to ultimately learn what is and isn't included.
Tips to Making Sure Your Photography Studio Session is a Great One:
Talent
First and foremost, you have to be sure you actually have someone in the studio – while a professional model makes a difference, we have found that it is not crucial to use one. More importantly is that you have someone remotely interesting to photograph; this can be anyone ranging from a friend to another photographer, and doesn't need to be a paid subject. However, whoever you choose to shoot, be sure to plan your lighting accordingly…which brings us to the subject of lighting.
Lighting
We here at Multiverse Media Group found out a long time ago that the most time-consuming element of any shoot is the lighting setup. It is an essential step when confirming your plan of action before going into a photography session. You should, ideally, plan two to three lighting setups, depending on how much time is booked.
Working with the Model
Don't forget that whichever model you're including in your shoot is a person too, so get to know him or her before the big shooting day. Why will this make a big difference? For one, he or she may have ideas or requests that will help them feel more a part of the session while improving the overall experience for all involved. And that's just the tip of the proverbial "working with the model" iceberg.
Make it a Team Effort
If at all possible, attempt to track down a fellow photographer to share the experience with you; making this a group activity assists in a number of ways beyond just the sharing of expenses. Extra people can help with setting up the shoot, making lighting adjustments and entertaining the modeling talent between sets.
If You Care About Quality and Cost…
Our production studio rental has been strategically designed to be uber-affordable…but this doesn't come at the expense of quality. We simply have a radically different business model than most other studios. In fact, we here at Multiverse are routinely told by photographers, models, videographers, agencies and casting companies that our studios remain THE choice for a clean environment loaded with the very best of equipment, lorded over by the friendliest, most experienced staff. If you truly care about quality and cost, you have found the best photography studio rental Jacksonville Florida has to offer!
Why Rent?
By renting time at Multiverse Media Group's photography studio, you can direct your energy toward the business of taking great photos without having to worry about the overhead of owning an entire studio…or perhaps even inviting strangers into your house. As the kind of photography studio rental Jacksonville Florida has been anticipating for some time, Multiverse Media Group offers an affordable means of entry and advance into the world of photography. We are 100-percent committed to the concept of photography as a vehicle of personal expression and artistic documentation, and when you consider the upfront costs associated with photographic sessions – i.e. the purchase of equipment – there's no reason why renting a studio should be beyond the reach of those interested.
Beyond Photography:
We Take Care of Everything…So You Can Focus on the Success of Your Shoot
Our 2,000 square-foot production studio is perfect not only for photo shoots but also:
Video Shoots
Corporate Videos
Training Videos
Special Effects Shots
More!
All MVMG studio rentals include:
Basic light kit
Makeup/dressing room
Waiting area
Kitchenette
Wireless Internet
Abundant free on-site parking
Drive-in door for vehicles, set construction, and easy loading of equipment
If you find yourself without your own gear or experienced crew, our affordable lighting and HD video packages make it simple to achieve everything you need to for your production. This includes web developers, audio recording booths and video editing/color grading suites right on premises.
Out-of-town production companies are also welcome at MVMG, so if you find yourself coming to the Jacksonville area for a production shoot, you can take advantage of our studio rental options, equipment packages, crew and post production services.
Renting a studio such as one of those at Multiverse Media Group of Jacksonville is undoubtedly the best way to get started in studio photography. Mastering the art of studio photography takes some time and effort, like anything else, but it doesn't need to cost a fortune…and we prove it every day. Sure, fear of failure may be something all budding photographers experience amidst their creative journeys, but it shouldn't stop you from creating the shoot of your dreams.
We take care of everything so you can focus on the success of your shoot.
Call us now at 904-701-3016 or
Book Your Studio Time Now